ABOUT SMEW
SMEW was started in 1958 by Mr. Vinod Nagarsheth. The Promoters are descendents of Sheth Shantidas Jhaveri(c. 1590-1659), a famous jeweller, financier and businessman of the seventeenth century. Shantidas is known to have even financed the mighty Moghul empire and was the first to be conferred with the title of Nagarsheth. Khushalchand (1680-1748), grandson of Shantidass, had saved the city of Ahmedabad from the marauding Maratha army in 1725 by paying a ransom of ₹ 5 Lakh on behalf of whole city.
The current surname is derived from being the Nagarsheth of Ahmedabad. The Family is also the founder of the Anandji Kalyanji Trust and has given several major donations.
SMEW has a shop area of 30,000 sq ft. with in house production of critical parts such as the grooved winding drums. The shop area consists of inhouse welding, powder coating and assembling facilities.
The production facility also have CNC machines for parts and drum manufacturing. State of the art CAD/CAM systems along with hi quality Japanese CNC machines are used for manufacturing for highly reliable and consistent parts. For 24 hour production, a robot has been commissioned. This has enabled unmanned production after factory working hours. We are happy to inform that the robot is running the CNC machines 24 hours a day.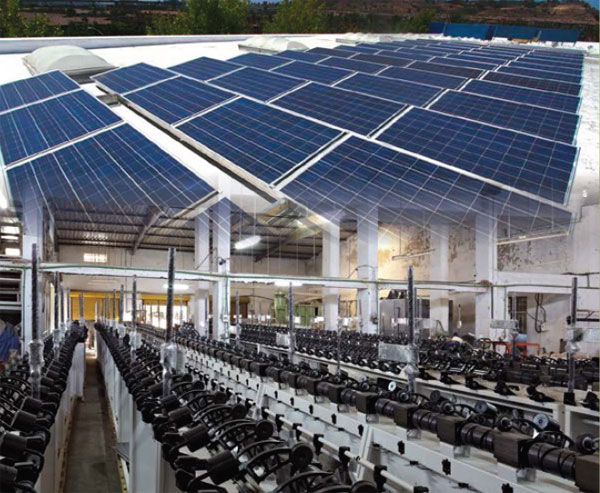 SMEW has taken up the eco friendly decision to put up solar panels on factory roof top.
We are pleased to inform that the solar panels are already commissioned on 30th March, 2013 and as of now SMEW produces about 70% of day time power inhouse.
The above initiative will go a long way in promoting environment friendly technologies and reducing our carbon foot print.
Our vision is to keep on innovating and provide new products to increase the profits of our customers. All new products will be developed in line with our vision of reducing our carbon foot print. Already the new machine lines of the ISS 12 SERIES , with the inbuilt motor design use less 20% less steel and occupy 30% less space compared to our competitors and our previous models.